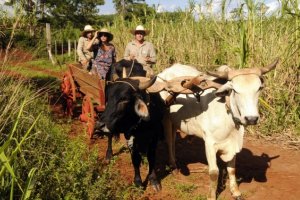 Posada Puerto Bemberg, Iguassu Falls, Argentina
The old house has been renovated maintaining its early 20th Century colonial style offering high level of comfort and attention to details. All of its 14 spacious rooms and suites feature high ceilings and are decorated in earth-tones color with native art and furniture. Each room has its own library stocked with books from 20th Century's Latin American Authors, its own patio and large windows with jungle view, to enjoy the bright mornings, sunsets and the nightly "Jungle Symphonies"
Guests at Posada Bemberg enjoy 3 delicious meals each day, cooked by Chef Joselina Hoffmann, incorporating local and international elements as well as fresh fruits, vegetable and fine herbs from the Posada's organic garden.
Enjoy the Trail walks through the jungle, native birds and animal watching, natural waterfalls, boat trips on the Parana River and mountain bike rides to amethyst, and other semiprecious stone mines.
These are combined with a warm and exclusive service, spacious and comfortable guestrooms, an intimate restaurant with local and international food, a living room and a library with more than 2500 books, where you can enjoy a glass of wine from our selection of over 1500 bottles. Guest may also enjoy the swimming pool, the watchtower and the observation deck.
Two nights are the minimum recommended stay at Posada Puerto Bemberg, in order to relax and fully enjoy the amenities of the Posada.
For additional information, rates and booking please contact us.