Apr 5th, 2013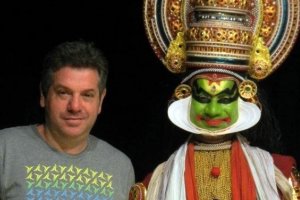 Kerala, India - Site Inspection Trip - April 2013
It's been a few months since our first Spiced Destinations newsletter. Since then, so much has happened – fabulous new adventures and truly extraordinary experiences. Please indulge me as I share my latest amazing journey with you.
Last month I returned from a really mind-boggling and definitely unforgettable inspection trip to Kerala, a tropical state in Southern India – it was unlike any other trip that I have ever taken. I am still bubbling over with adjectives and exclamations.
As you well know, traveling is the nature of my business (and pleasure). I have seriously been so very fortunate in being able to explore so many exotic destinations around the world, but few places surprised me and exceeded my wildest expectations as much as Kerala, India.
On the following pages of this newsletter, please take the time to read my scribbled notes and vivid impressions about this truly unique, vibrant, lively and intriguing dot on the planet that is totally enchanting.
The State of Kerala ("Land of Coconut" in the Malayalam language), covers 15,005 square miles (slightly smaller than Switzerland), in the southwest corner of India, nestled on the Malabar Coast of the Arabian Sea. Kerala offers unparalleled scenery of lush green mountains… backwater systems of sparkling lakes and canals…fragrant miles of tea and spice plantations….tropical beaches….colonial cities….exotic markets….bustling seaports….. surprising flavors in a diverse cuisine…..and, offers a rare glimpse into ancient cultures. What else could anyone possible want to experience?
Kerala is also known as the birth place of Ayurvedic medicine (also called Ayurveda), one of the world's oldest medical systems which originated and evolved over thousands of years. Here, there are truly remarkable wellness resorts with so many options for wellness and weight-loss programs, ranging from one week to three weeks. European and Australian travelers have been enjoying the treasures of this region for years; however, North Americans have yet to discover its wonders.
The most convenient gateway to Kerala is the vibrant city of Kochi (formerly Cochin), which can easily be reached comfortably and elegantly with Emirates and Qatar Airlines, both offering some of the best service in the air. (A stopover in Dubai is a very nice option to be considered).
And, while Kerala can be an independent destination for itself, it can easily be combined with any other highlights and stopovers in India, Nepal, Sri Lanka and even the Maldives. We can design amazing combinations just for you!
I am hoping that this "travel diary" of my journey to Kerala will inspire you and stimulate your appetite for something new and definitely exciting -- after all we are Spiced Destinations!
Where to next???? I'm thinking about it.
Eitan Silberberg
President

Seasoned Journeys around the World
April 2013
Kerala, India
A Personal Travel Journal
The lure of India and fascination with its culture has always been in my restless soul. Now, I was ready to embark on another great journey to this exotic land. Please follow me on a day-by-day discovery of Kerala, India.
Arrive in Mumbai
My arrival in India began in Mumbai (Bombay). Although I had full intentions on this trip to visit only the State of Kerala, I was already in Mumbai so I decided to spend a full day exploring this vast metropolitan city. Mumbai, the financial capital of India, is also headquarters of some of the largest companies in the world – and home to some of the wealthiest people in India. Its suburban train system carries more than 7.24 million commuters daily. (Can you imagine that?) And, it is known for the highest passenger density of any urban railway system in the world. (Pretty impressive). One of the system's highlights is the world-famous Victoria Station, a UNESCO World Heritage Building, built in 1887, with influences from Victorian Italianate Gothic Revival and traditional Mughal architecture.
Another really fascinating attraction related to the railway system, is the Dabbawala in Marathi, which (when liberally translated) means "one who carries a box". This service distributes home cooked meals from the employee's homes in the suburbs directly to their office in the city, and then returns the empty lunch box back to their homes. (Truly a great idea – would it work in NYC?) In 1998, Forbes Magazine found the Dabbawala's reliability to be that of a six sigma standard. This implies that the Dabbawalas make less than one mistake in every 16 million deliveries, despite most of the delivery staff being illiterate. Watching the Dabbawala in real time is an amazing eye opening experience!
If you want a great place to stay, Super Deluxe hotels are abundant in Mumbai , including the newly renovated gorgeous Taj Mahal Palace Hotel, with its breathtaking views of the bay and the "absolutely-must-try" afternoon High Tea.
From Mumbai to Kochi
I boarded a short flight from Mumbai to Kochi, known as the Gateway to Kerala. Here, I met my guide and we started our drive toward Kochi, surrounded by beautiful and lush green landscapes. As we arrived in Kochi, I noticed the huge trees almost creating a "cover" above the historical fort area. Kochi was surprisingly interesting and vibrant, highlighted by a tour of the Old City, including the Mattancherry Dutch Palace, built in 1555 by the Portuguese and renovated by the Dutch in 1663. My next stop was at the Jewish Synagogue in "Jew Town," the oldest active synagogue in the Commonwealth of Nations, built in 1568. It's incredible to note that Jewish trade with Kerala dates back to the time of King Solomon. There are several picturesque streets that look like postcards from another era, built in 17th century Dutch and traditional Kerala styles. After visiting St. Francis Church, the oldest European church in India, we then stopped to see the Chinese fishing nets along the tip of Fort Cochin, unique to this part of Kerala – a true symbol of the centuries-old Chinese influence on this coast.
In the evening, I enjoyed watching a very traditional dance performance, which started with the interesting process of putting the costumes on the dancers along with the face makeup.
My accommodation at the Brunton Boatyard took me back to the colonial era of spice merchants and polished British tradition. An experience.
From Kochi to Munnar
In the morning, it was time to leave bustling Cochi and drive out to the countryside. As we ascended the mountains, the flora changed to a dense tropical forest, with an impressive variety of exotic palms, ferns, bromeliads and colorful orchids. At an altitude of 1,450 meters (4,760 ft) above sea level, the landscape then evolved into an endless pattern of green tea plantations with layers and layers of tea estates, sprinkled with mountain mist, beautiful waterfalls and wildlife sanctuaries – creating a truly surreal setting. Most of the day was spent walking through the tea gardens and enjoying the many different tastes of exquisite dark, green and white teas. The perfect ending to the day was a discovery of the local market with its colorful produce and amazing aromas – it was truly wonderful. Then, to the Windemore Estate, with its charming accommodations – a great rest after an unforgettable day. My camera was working overtime!
From Munnar to Thekkady
I awoke today to the view of the misty and majestic mountains of the Munnar area. Driving down the winding roads after breakfast, we continued through the forest to Thekkady, the "Spice Headquarters" of India, where almost every kind of superb spice can be found. At the Spice Garden, I was excited to see the bushes and trees that produce some of the world's most famous flavor-enhancers, such as pepper, nutmeg, cardamom, coffee beans, vanilla, turmeric, cacao, cinnamon, clove and so much more.
In the evening, the most famous attraction in town is the local folklore show, combined with a thrilling demonstration of Kalaripayattu, one of the oldest martial arts in existence.
My comfortable accommodation was at the CGH Spice Village, where a typical and I enjoyed an excellent Kerala meal for dinner and breakfast.
Visit to the Periyar Tiger Reserve -- Walking & Raft Safari
Getting up very early is a "must" for a successful visit to the Periyar Tiger Reserve. It was just a 5 minute drive from Thekkady to the entrance of the renowned National Park. Here, joined by the local ranger, we began our trekking adventure through the semi-evergreen forest. We walked for 5 miles along the winding nature trails, observing the wildlife all around us, spotting playful monkeys, giant squirrels, wild boars, deer, and buffalos. Beside these mammals, the reserve is home to 195 species of birds, making it a true paradise for birdwatchers. I was hoping to meet the wild elephants but only had the privilege to encounter their droppings. Needless to say, tiger spotting is rare and only few lucky ones ever get to see the majestic Bengal Tiger. It was not my lucky day – the tigers never came to meet me. To conclude a remarkable day, we then boarded a wooden raft and sailed serenely through the calm lake waters for close-up views of the animals from different angles. Another unforgettable day!
From Thekkady to Kumarakom, Gateway to the Backwaters
Today, we departed Thekkady on our drive to Kumarakom, gateway to Kerala's backwater system, stopping en route at the home and private plantation of an established family, in the center of a successful rubber plantation and organic spice farm. The owners hosted us for a traditional lunch in their informal open-air dining room. We looked out at the forest, while chatting about their history, plans for the future, Indian politics, religion and much more – it was truly a remarkable and intimate experience.
Then, after a scenic drive through verdant mountains, and colorful roadside quotidian scenes, we arrived at the private jetty of the CGH Coconut Lagan Resort. H ere, we boarded a motor boat for a 20 minute ride through the freshwater canals, ending at the resort's dock. The property is designed like a village with beautiful gardens and fantastic views of the canals and lake. The CGH Hotels are remarkable in their efforts to create a perfect balance between the required amenities to maintain high-comfort hotels, and the preservation of their environment. Almost everything is recycled, using special environmental technology in their pool filtering system, making their own paper using banana leaves and other natural resources, and even use the local midget cows (the smallest in the world) as their private lawnmowers.
The villa that I stayed in had a private (totally private) swimming pool. I had a really big decision to make --whether to sit at the front side of the villa and watch the spectacular lake…..or at the back, enjoying the view of the resort's private rice-fields, home to hundreds of marine birds, or … to get out of my villa and join the sunset cruise. I, of course, did all three!
Experiencing Ayurveda -- an ancient wellness system
I humbly admit that before my visit to Kerala I never heard about the Ayurvedic Medicinal System -- now I realize, this is one of the most ancient known medicine systems in existence. Nor, did I know that Kerala is the birthplace of Ayurveda (based on treatment through herbs, oils and massages). After this trip, I am totally informed and totally impressed.
I then did some research and decided that it was time for me to personally experience one of the Ayurvedic treatments. The best place for this enlightenment was the Ayurvedic Center at the Coconut Lagoon. I was surprised to learn that you actually meet with a Certified Doctor prior to your treatment who "prescribes" the treatment that you should have, rather than you deciding from a long list of treatments. The details of this treatment shall best be kept unpublished. I can only tell you that my wife could not stop laughing when I described my exotic experience over the phone. The truth is that I truly felt so energized after the treatment and promised myself to go back again – for sure!
This resort, as well as many other fine properties in Kerala, offer wellness packages of 7 to 21 days for everything from weight loss programs, to cleansing, and also treatments for rheumatism. These programs are extremely popular with Europeans, who come back on a regular basis for more treatments.
 
Cruising on a Private Houseboat
One of Kerala's most famous attractions is a cruise on a Private Houseboat through the canals of the backwater system. It is really difficult to adequately describe this experience, using the usual adjectives. I can start by saying that a journey on a Kerala Houseboat has been chosen by the BBC as one of the world's Top 10 Journeys.
You actually cruise aboard your own Private Houseboat! You don't share it with people that you don't know. The local companies have one, two and three bedroom houseboats, ranging from Standard to Luxury. The Luxury houseboat offers private facilities, air-conditioning in the bedrooms, a private crew plus your own private chef to cook onboard the delicious Kerala cuisine just for you. Some houseboats even feature oversized private hot-tubs and whirlpools.
The 1 to 3-night cruises take you on a slow and calm sailing through the canals, totally surrounded by tropical flora, coconut trees, small villages, rice fields, and perfect bliss. During the cruise, you can stop whenever you choose to enter temples and worship sites of different religions, explore local markets, visit schools, meet the people and walk along tranquil trails. Of course, you can eat and drink to your heart's content and enjoy the creations of your private chef like there is no tomorrow. (Then, you may have to try the Ayurveda weight loss treatment.)
After my amazing houseboat experience, everything else is blurred. Loaded with tons of fine teas, sandalwood essence oils, and the extraordinary stimulation of all of my senses, I do remember vaguely traveling to the airport, boarding a flight and somehow landing at JFK in New York.
Was this a dream?
Eitan
"Like" us on Facebook! Spiced Destinations has joined the Facebook community, with the intention of providing you with updated travel briefs and eco-related issues. Plus, look for the very exiting specials to our exotic destinations.