Mar 13th, 2014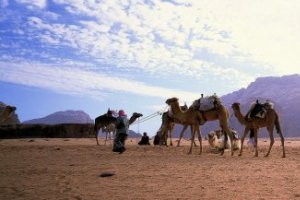 Winter Escapes February 2014
Dear Spiced Traveler!
A few months ago I read a news article – quoting the Farmers' Almanac – that predicted "biting cold" for the 2013-2014 winter. I was somewhat amused by this long-range forecast: how could they predict the weather so far in advance?
Unfortunately, the almanac was right.
It's only half-way through the season and I've already been looking for reasons to travel somewhere warm. Actually, I'd settle for anywhere that's above freezing.
Compared to New Jersey, even Iceland is a more tepid choice at the moment. Plus, they have those amazing hot springs (ahhhhh, I can feel the bubbling water now).
But we didn't travel to Iceland this winter. Instead, my wife and I escaped the frigid cold by flying down to the enticing Jicaro Island Ecolodge in Nicaragua. And our heat-seeking travels didn't stop there either. After luxuriating in the tropical forest, we then embraced the desert by traveling to Jordan to visit the fascinating, rock-carved wonders of Petra.
Here are some of my observations from these recent experiences. Hopefully, they provide you with some inspiration for your next warm-weather getaway.
Jicaro Island Ecolodge, Nicaragua:
What a find!
Please pardon the cliché, but the Jicaro Island Ecolodge is a true hidden gem. And part of its charm stems from its stunning location.
About 2,000 years ago, the Mombacho Volcano erupted in a great explosion that tossed massive rocks into what is today known as Nicaragua Lake, creating the Islets of Granada. This group of 365 tiny rocky islands, many of which are covered in lush tropical forest, are home to an abundance of different birds and other wildlife. Many of these islands are privately owned (in fact, some are still available for sale if you're interested).
And one particularly beautiful islet was chosen as the location for the Jicaro Island Ecolodge. Our journey to this island paradise began with a mere six-hour flight, including the connection time in San Salvador, that took us from frozen New Jersey to the 85F heat of Nicaraugua's capital city of Managua.
Representatives from the lodge picked us up at the airport and drove us about 45 minutes to the colonial city of Granada, where we boarded a private boat for a 20-minute ride along the spectacular Lake Nicaragua.
We could hardly make out a single structure as our vessel approached the Jicaro Island Ecolodge – everything was hidden behind lush palm trees and dense tropical brush. The architect behind this unique resort managed to comfortably fit nine spacious, hardwood-built cabañas on this stunning stretch of land.
An open-air layout, mesmerizing lake views and semi-transparent walls, which allow natural light to pour in, make for uniquely relaxing accommodations. There's also a cozy seating area, balcony with hammock and a large bedroom with glass-free windows protected by premium bug screens. That means every morning you wake to the sounds of tropical birds and Howler Monkeys.
We were welcomed with warm smiles and a cool tropical cocktail right at the dock when we arrived. Staff then toured us around the islets before leading us to our room. By the time we set down for lunch, we were already swooning over this private island paradise.
Our stay at the lodge included three delicious meals per day, use of their kayaks as well as arrival and departure water transfers from the Granada Dock.
If you're the type of traveler who prefers loud casinos, action-packed fitness classes and lively all-inclusive nightclubs, then you may not want to put Jicaro on your must-see list. This is a place for sumptuous solitude; a rare experience that allows you to relax and decompress while surrounded by the unspoiled beauty of Mother Nature.
But please don't think there isn't anything to do here. In fact, there's plenty to keep you busy. During our five-day stay, we swam in both the lake and a small yet stunning pool, kayaked between the tiny islets, relaxed with a great massage and had a private yoga class. And did I mention the outstanding cuisine?
Plus, adventure awaits just off of the island as well. At first, we didn't want to leave our little piece of paradise, but finally we decided to sample one of the optional excursions. And were we ever glad we did!
After trying the pulse-racing zip lines located nearby, we explored the trails of Mombacho Volcano National Park. Over-sized ferns, palm trees and vibrant bromeliad and orchids made the stroll especially fascinating. But they didn't match the awe-evoking views of Lake Nicaragua.
Back at the resort, a fairly reliable free WiFi connection meant we were able to share our experiences with the outside world. And as our vacation photos show, I wasn't able to keep the smile off my face – even when we landed back at the ice-crusted JFK Airport.
Petra and Wadi Rum, Jordan:
I first visited the ancient city of Petra years ago, but my memories of this place are fuzzy at best. That's because I was guiding a group of visitors through the Jordanian desert at the time, and was so focused on the logistics of the trip that I wasn't able to truly appreciate this mesmerizing archaeological wonder.
But my second trip to Perta more than made up for it.
I was able to take in this amazing attraction as part of a larger trip to Israel last January. After a 25-minute flight from Tel Aviv, I arrived at the country's southern-most city of Eilat. From there, we took a short taxi drive to the Arava border crossing where we entered Jordan and met our driver, Ibrahim.
We headed north for an hour and 45 minutes, winding past spectacular views of the endless desert and inspiring granite mountains. We stayed at the comfortable 5-star Movenpick Petra, a superbly comfortable hotel located just across from the main gate to the famous archeological site. We enjoyed a fun cooking class on our first night at a nearby restaurant.
But the next day is when the fun really began. I knew that Petra was spectacular, but it wasn't until I was standing near the ancients ruin that I remembered how amazing this place was. Hundreds of buildings, royal tombs, houses, palaces, temples and more – all carved into the multi-color sandstone cliff faces. Every moment of exploration was a thrill. The adventure starts out by walking through the 'Siq,' which is a narrow, slot canyon with walls that reach 91-182 meters (300-600 feet) high. Then you emerge at the Al Khazneh (known as the Treasury) — one of the most stunning buildings in Petra.
We spent most of the day exploring these ancient ruins and even used one of the horse-pulled carriages to return to the main entrance. But I couldn't get enough of this enthralling city. I returned to the site to experience the "Petra by Night" tour, when the Siq and Treasury are illuminated by more than 1,500 candles, casting a warm glow on the rock-carved structures.
After a delicious breakfast the next morning, we were picked up from the hotel and driven south to Wadi Rum. This is one of the most famous desert landscapes in the world, mainly because it was used as the setting for a number of popular films including the epic "Lawrence of Arabia."

Here, we met our Bedouin host, a member of the local tribe, and then hopped on a 4x4 vehicle to explore the desert. We stopped a few times to climb red-sand dunes, sip tea at a Bedouin tent and to marvel at an ancient temple and spectacular rock formations.

I also had a look at some of the accommodations available in Wadi Rum, which range from basic yet charming tent camps to the luxurious Bespoke Hideaways Camp. These safari-like tents include their own private facilities and plush, upscale bedding.

After lunch, we drove back to the Arava border and crossed into Israel. Our amazing journey was capped off with a two-night snorkeling Safari in the Red Sea and a swim with the dolphins in the Dolphin Reef.

I can't think of any better way to escape the cold of a New Jersey winter.

If you're considering a trip to Jordan or Nicaragua, and have some questions about these countries, please get in touch with me. I'm always up for chatting about travel.

Eitan Silberberg
President