11 Days / 10 Nights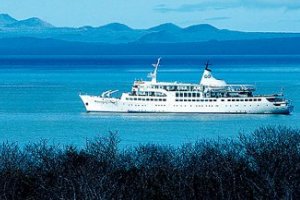 Galapagos Expedition aboard the Legend
A comprehensive 10 day Galapagos Expedition aboard the 100-passenger Galapagos Legend. See prehistoric iguanas, giant tortoises, exotic birds, plants, beautiful landscapes of volcanoes, lava cones and magma flows.
The Galapagos Expedition includes unforgettable experiences aboard the Legend, all inclusive packages with the best of Ecuador´s astonishing natural sites, its rich culture and history, the variety of adventure activities and a powerful intercultural exchange. All in the most bio-diverse country in the world, Ecuador!
Starting from: $5,203
The above price is per person sharing occupancy rooms/cabin
Upgrades to higher category cabins are available upon request
Rate is subject to availibility
This magnificent vessel, with a capacity for 100 guests, has the charm of the Enchanted Islands; it is still small enough for a more intimate experience with friends and family. With its five different decks, the M/VGalapagos Legend offers a great variety of comfortable and spacious social areas without losing its sense of intimacy. Its fantastic open decks allow you to admire the islands' flora and fauna, enjoy a BBQ at night, or take some sun at the pool and bar areas. Take advantage of its spacious inside auditorium for important conferences or let the landscape amaze you from our brand new Constellation Deck.
Accommodations (expedition ship):
7-nights Galapagos Cruise aboard the M/V Galapagos Legend in a Standard Plus cabin.
3-nights accomodation in Quito in a First Class Hotel
Transporation:
All transfers
Half a day shared city tour of Quito
Two daily excursions to the Islands with Multilingual speaking guide.
Optional snorkling, briefs, lectures, and activites on board.
Meals:
Daily breakfast at the hotel in Quito
All meals during your expedition cruise, as well as free coffee/tea at the 24-hour station and farwell cocktails
Other:
Not included:
International airfare
Airfare from Quito to the Galapagos ($550 will be added to your final invoice)
Galapagos entrance fee of $100 per adult and $50 per child under 12 years old (will be added to your final invoice)
$100 Galapagos Fuel Surcharge (will be added to your final invoice)
Itinerary
Show all details » Hide all details »
Day 1 - Arrival in Quito

Transfer upon arrival.
More details »

Transfer upon arrival and an overnight in Quito.

Day 2 - Quito

Experience the Colonial City
More details »

Colonial City Tour/ Middle of the World: bustling streets and squares of the largest historical old town in the Americas, a multi-ethnic, artistic and cultural heritage destination. Visit the "Middle of the World" situated at 0°0'0" latitude. Overnight. (b)

Day 3- 10 - All-Inclusive Galapagos Cruise Aboard Top Quality Galapagos Legend (b,l,d)

Domestic flight to Galapagos. All-inclusive 3-night top quality cruise. Only a special few have the chance to travel through this paradise, sailing on a charming ship, with nautical interior decoration of wood and brass, featuring spacious outer decks, sea-view cabins and suites, jacuzzi, pool, bars and more. See prehistoric iguanas, giant tortoises, exotic birds, plants, beautiful landscapes of volcanoes, lava cones and magma flows. Swim and snorkel at any time of the year in the warm clear waters among tropical fish, manta rays, sea lions, swordfish, sea turtles and other marine wildlife. Multilingual naturalist guides lead shore excursions twice a day to a place unlike any other full of wildlife that has no fear of man. Lectures explaining the geology, history, evolution, flora and fauna of the islands are provided in several languages. A fine selection of meals will delight you, from buffet breakfast to gourmet dinners, ice cream festivals, and evening barbecues.

Back to Quito Overnight. (b,l,d)

Day 11 - Quito

Depart from the Legend and transfer to Quito (b)
More details »

Disembark from the Legend and transfer to Quito. 
Explore more of: Galapagos Islands & Ecuador