3 Days / 2 Nights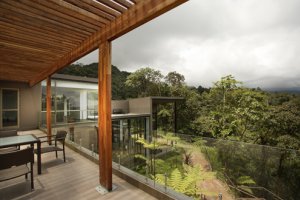 Luxury Cloud Forest Adventure, featuring Mashpi Lodge
Join the privileged few for an unforgettable adventure at the Ecuadorian Cloud Forest. Submerged in the unparalleled luxury and comfort of the Mashpi Lodge; while exploring one of the most fascinating Eco-System in South America, this program is a perfect addition to any of your Ecuador & Galapagos programs.
Daily departures from Quito
Per person sharing double occupancy room: $1,296
Wayra Room: $1296
Yaku Suite: $1552
Additional nights' rates is available upon request.
Mashpi lodge is designed to completely immerse you in the cloud forest, while keeping its creatures safely at bay – a luxury cocoon amid the clouds and tumbling mountains. The rooms, arranged over three floors, all face north, with floor-to-ceiling glass windows, some on two sides, with the forest just a few meters away.
This Journey is appropriate for all nature and wildlife lovers of all ages!
The combination of the near-equator location and the high elevation, offer a perfect climate for exploration. It is never too hot or too cold at Mashpi..
Accommodations, all meals, guided daily excursions (in English and Spanish only) to primary forest, aerial tram, rivers and lagoons along the reserve, and specialized lectures. Rain ponchos and rubber boots
Transfers out (shared basis), includes entrance fee and visit to the Pululahua Crater and the Tulipe Archeological Site
Transfer out (Mashpi-Quito, shared basis) .
Not Included:
Gratuities, bar, gifts and additional items. Activities outside the reserve ( kayak, bike, canopying etc).
Itinerary
Show all details » Hide all details »
Day 1 - Depart Quito - Mashpi

Pick up from the JW Marriott Hotel and transfer to the Mashpi Lodge via the Tulipe archaeological site and museum. In the afternoon, we enjoy our first Cloud Forest hike. (l,d)
More details »

We depart the JW Marriorr Hotel at 7:30 a.m. Guests staying at other hotels in the city will be picked up earlier and driven to the JW Marriott. We take the highway north of Quito, passing the Equator Monument and Latitude 0. Climbing up to the western pass, we detour for a short break at the viewpoint of the Pululahua Crater, a dormant volcano. From here on, it is downhill towards the Pacific Ocean, turning off the main highway onto rural roads about 30 minutes later. About two hours into the drive, we reach the archaeological site-museum of Tulipe, where we stop to explore the grounds and learn about the Yumbo people who created the water pools and the ritual complexes in the region. We then continue to the entrance of the Mashpi Reserve, which extends over 1,300 hectares (3,212 acres); a haven for wildlife and biodiversity. Upon arrival at the lodge, just around noon, you are welcomed with a refreshing drink and checked in to your room. Meet your Naturalist Guides for a short briefing about the reserve and activities, before you head for lunch followed by a short time to relax. After lunch, you will embark on your first cloud forest activity. Optional night walks head out from the hotel following dinner. (l,d)

Day 2 - Mashpi Lodge

Entire day of Cloud Forest Adventures (b,l,d)
More details »

For those who want to enjoy the beauty and magic of dawn in the forest, which is when most birds are active and calling, as well as when views are often most spectacular, early morning activities are organised just before breakfast.

Following breakfast, we head out from the lodge to explore, returning for lunch and a rest, before enjoying an afternoon amid Nature, then dinner, night walks and sleep. (b,l,d)

Day 3 - Mashpi Lodge / Quito

After morning activities at the forest, we enjoy lunch and bid goodbye to Mashpi. We then transfer to Quito, arriving at your hotel at around 4 to 5 pm. (b,l)
More details »

On the last day, we savor an early breakfast, followed by a morning activity. We then return to the lodge for check out. An early lunch is served before departure. We then drive back eastwards, winding our way up the Andes towards the capital, arriving at Quito in the early evening hours.(b,l)
 
Explore more of: Galapagos Islands & Ecuador