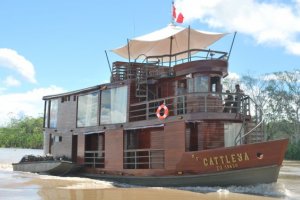 Amazon Expedition aboard the M/Y Cattleya Journey
Cruise Only Rate Per Person Starting at: $3,150
3 nighst Cruise
Main Deck: $3,300
Upper Deck: $3,150
4 nights Cruise
Main Deck: $4,200
Upper Deck: $4,000
* Rates: Prices are per person sharing doubel occupancy cabin.
The Cattleya was born in 2014 with the unique purpose of bringing comfort and satisfaction to the visitors who have the opportunity to engage in an excursion along the Amazon jungle. Without a doubt, this is one of the things that need to be experienced at least once in a lifetime. The ship is brand new, and special care has been focused on its operative details with the purpose to ensure its correct functionality. Its class is considered as a first class boutique ship along its 4 cabins. The Cattleya has capacity up to 10 passengers, making the customer service very personalized for each one of the exclusive visitors.
The crew is a very important element on this trail. All of them are very professional, as well as skilled in giving high standard service from the captain to the kitchen members who are in charge of the restaurant during all meals. Kindness is one of the qualities that make this crew outstanding, as well as making visitors feel the joy at home, and yet outside home.The chefs are for instance, very famous characters in Peru, particularly in the region of Loreto. They take care to fulfill the most demanding and special orders that the passengers require onboard the Cattleya.
For all these reasons, we invite you to experience this adventure in the Amazon region, with all the comfort possible and exclusive attention from the local people, who will be interested in talking about many anecdotes with the visitors. These attempts of socializing, guarantee that this trip is the beginning of long lasting friendships among people who are from different backgrounds and distant geographic regions in the world. By the time you arrive at home, your exploration of the Amazon Jungle will remain with you for a lifetime.