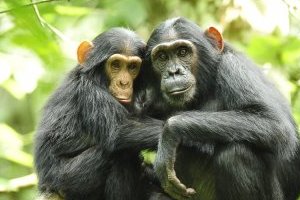 Buhoma Lodge
The charming Buhoma Lodge is comprised of eight traditionally built wooden cottages, with each one fostering a sense of warmth and adventure. Stunning forest views and plenty of modern comforts make these accommodations unforgettable.
Comfortably rustic surroundings
Wake to the sounds of the jungle and peer out of the spacious window, where you're treated to views of the lush forest canopy that covers the horizon. The vibe here is simple yet comfortable. The cottages and most of the furniture have been crafted using local, natural materials.
Unwind on the private veranda and take in the energy of the forest – you might even spy a gorilla moving through the brush in the distance. Flushing toilets, hot showers and even stone bath tubs in select rooms ensure that your stay will be a pleasant one.
Gorilla tracking, forest walks and more
The Buhoma Lodge offers an incredible base for seeking out the rare mountain gorillas that roam the surrounding forest – in fact, it's located only a 5-minute walk to the meeting place for these popular treks. Afterwards, take a guided tour of a local village or go bird watching.
And as the sun sets, gather around the fireplace at the dining and lounge area and enjoy delicious cuisine while chatting about the day's events.
To find out more about this amazing property, please contact us for a free travel consultation.