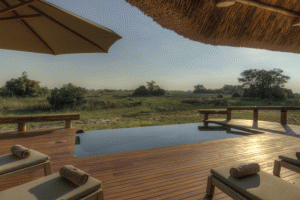 Camp Okavango, Okavango Delta
Camp Okavango is a unique, exclusive and eco-sensitive African safari camp situated on the remote Nxaragha Island. A hidden treasure, in the heart of the permanent Okavango Delta, assures its guests of an unparalleled year-round water wilderness experience.
The Camp is hidden amongst beautiful ancient mangosteen trees, the main area comprises a network of interconnected walkways and decks linking two lounge areas, a dining room, a library, and a self-service bar. Sweeping ramps lead to the lower level deck with two open-air fire pits and comfortable seating areas to relax and take in the natural surroundings. There is a third deck with a rim-flow swimming pool and thatched lounge deck for those warm summer days.
With its open-air design and elevated position, the new Camp Okavango is an eco-sensitive lodge which captures the very essence of the Okavango Delta.
Accommodations:
To ensure a peaceful and genuine safari experience, Camp Okavango accommodates just twenty-four guests. There are eleven intimate Safari suites and one Family suite consisting of two bedrooms and each with an en-suite bathroom. Each of the guest suites has been built on individual raised wooden platforms and set beneath the thick Okavango Delta vegetation. The en-suite bathrooms have double vanities, double shower and a separate water closet (with a view). The stack away sliding doors open onto a private open-air viewing deck offering beautiful views over the Okavango Delta.
Activities and Wildlife:
Water-based activities are conducted by experienced professional guides who will expertly navigate guests through the many meandering, reed-lined waterways. Roam the vast expanses of water from the comfort of a modern motorboat or explore the intricacies of the Okavango Delta the quiet old-fashioned way, in the traditional mokoro (dugout canoe).
For those wanting to get a little closer to nature, guided bush walks are conducted on a number of the nearby islands, offering an opportunity to track some of the larger land-based species that inhabit this water wilderness. Birding opportunities are outstanding and anglers may put their skill against bream and tiger fish. Camp Okavango is a water-based camp and game-drive activities, using safari vehicles, are not possible.