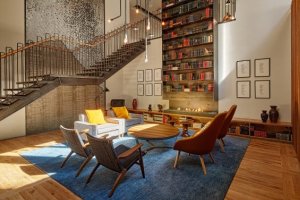 Canopy by Hilton
Set across six connected houses, the hotel joins a neighborhood rich with history, color and life.
At Canopy, the rooms and suites are styled in shades of ocean and volcanic rock and have all the comforts you crave. Just-Right Rooms have a 48-inch TV, mini-refrigerator, bedding designed exclusively for Canopy for comfier, better sleep - and the WiFi is free. Suites offer even more space to stretch out in a living room. Local art fills the walls in the boutique rooms and suites.
At Canopy, there's always a great culinary experience, a light snack, or an inviting beverage waiting for you. Start the day your way: with a delicious artisanal breakfast made with fresh, local ingredients or with a Break Fast Bag delivered to your room. Or simply relax with a cup of coffee in the Canopy Central Café. No need to go far, Reykjavik's top dining experiences is in the building, check out Geiri Smart Restaurant. From business brunches to pre-dinner drinks and everything in between, the options at Canopy are always refreshingly satisfying.