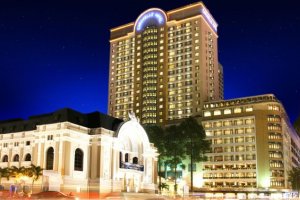 Caravelle Hotel, Ho Chi Minh City (Saigon)
The Caravelle overlooks the famous Dong Koi Street and is just opposite the Opera House. Within the walls of this hotel awaits a sumptuous sanctuary from the busyness of Saigon.
From the indoor pool and slick martini bar to the intuitive service found throughout the hotel, these accommodations offer supreme comfort at every turn.
Comfort and tranquility
This acclaimed hotel was renovated and expanded in 1998, but the building still maintains a connection to its 1956 roots. Accommodations in the old wing have a rich historic flavor while the new wing boasts lavish furnishings with higher rooms affording remarkable views of the city.
Relax in comfort while enjoying some of the fastest and most efficient service in Vietnam. And when you're ready to explore, the city's finest restaurants and best markets are just outside.
Enjoy exclusive dining
Mingle with local residents at the casual and cheery Buffet Nineteen or enjoy a more exclusive experience at the Signature Lounge, a brilliant restaurant reserved for Signature Room guests. A martini bar and Vegas-style game tables add to the thrills.
Plunge into the stunning seventh-floor pool that curves past palm trees and tropical flowers and then melt away stress at the Kara Salon & Spa. It's an opulent experience at the Caravelle Hotel no matter what's on your agenda.
To find out more about this property, please contact us for a free travel consultation.