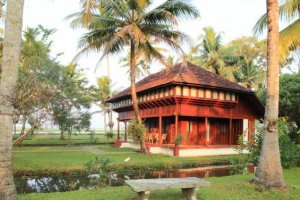 Coconut Lagoon, Kerala
Situated on the shore of the Vembanad Lake, the Coconut Lagoon is a tropical paradise, accessible only by a boat ride, through the backwater canal system. The resort is the perfect base for the exploration of the famous backwater of Kerala, as well as an excellent option for an Ayuverdic Wellness Center.
The resort is located at the district of Kuttanad or the "land of the short people". This tag came about because the local farmers are always knee deep in water when working in the rice fields. Keeping up with the tradition, more than 8 of Coconut Lagoon's 30 acres are actually used for rice cultivation. Not quite what you'd expect from a holiday resort? Well, sit back, relax and explore. You'll find much that defies easy definition.
There are so many facets to the Coconut Lagoon experience, such as the heritage of the old feudal villages of Malabar, the vast frolic of the Vembanad lake, the shimmering waters of the canals that crisscross the property and the flavor bursts of Kerala home-style cooking. Together they are a celebration of harmony, life and natural beauty that touches every sense and takes you into a world still unsullied by modern ways.
Each time you visit Coconut Lagoon, you're quite likely to have a different experience, not just outside your room but in it too. Every piece of furniture has been meticulously chosen to give our interiors an individual look.
Villas will have different beds, cupboards and chests of drawers that we've sourced, not from a store but slowly, from traditional homes and, of course, the famed craftsmen of the region. Furnishings too rely on local materials offset with linen, rough-woven cotton and other natural fabrics.
Cottages are well over a century old, a few actually date back to the early 17th century. They were painstakingly dismantled and brought to this location from various sites in the surrounding countryside. These tharavadus heritage houses, have been reassembled piece by piece in accordance with the ancient rules and rights of carpentry.
Coconut Lagoon Pool villas: The private pool villas have a separate living room, a spacious bedroom, a passage, a private sit out, a closed bathroom, a private plunge pool and a window looking out to acres of endless paddy. The fact that these villas offer both sunrise & sunset views are further reasons for staying in them!