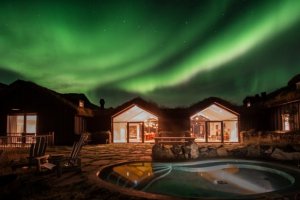 Deplar Farm
Deplar is a converted sheep farm, situated in the remote Fljot valley in the mountainous Troll Peninsula in northern Iceland. Today's modern structure celebrates a rugged past, and honors authentic Icelandic architecture with 13 en suite bedrooms. It's a one-stop-shop for adventure, solitude, mystery, and high-end amenities.
Deplar is defined by its unique living spaces. Built where an old sheep shed stood, it's inspired by centuries-old, authentic Icelandic turf houses.
The Bar
A fully equipped bar with generous seating, where guests can nurse their favorite cocktail or be introduced to a new, locally inspired concoction. Entertainment includes an oversized TV, pool table, foosball, darts, and additional toys for all ages. A wraparound deck overlooks the outdoor infinity pool, the Viking sauna, the Fljota River, and lake. The bar's loft features a stage equipped with any instrument needed to kick start a spontaneous band night (which happens often). And karaoke parties are frequent and fierce, amongst kids and adults. The laid-back Eleven vibe is the perfect party for QT with friends and families. Wear PJs, formal attire, or dig through our extensive Deplar costume collection. Fun is your only requirement.
The Lounge
Located at the back of the bar, this stylish room celebrates the property's neighboring peaks—the barrier between indoors and out is virtually nonexistent. A large signature Eleven fireplace takes center stage. During fishing season, a fly-fishing station is set up where guides can show guests how it's done.
The Dining Room
The dining room is framed by beautiful views during the day but takes on a cozy, romantic feel by night with a fireplace and dimmed lighting. Guests dine on in-house, chef-prepared breakfast and lunch (when dining in-house; most guests lunch while on excursions). During dinner, modern Icelandic fare is paired with carefully selected wines from Deplar's extensive cellar. The design includes an Icelandic taxidermy bird collection, curated by a famous local senator. Small and large groups spend quality time together. New friends are made and guests aren't afraid to dine in their Deplar robe.
The Library
View our fishing book collection while taking in the alpine scenery.
The Media Room
No detail has been spared, with a large, dare-to-leave-me couch, TV, and a projector for customized screenings. Game consoles and a large gaming collection satisfies the kid in all of us, and guests can airplay their own material via apple TV and Netflix. Also ideal as a meeting or lecture area, with a walkout deck.
Guides Area
Deplar's "Control Tower," where Eleven guides prep the day's adventures and provide weather checks and guest briefings. A flatscreen TV and meeting area can also be used for corporate retreats. A retail area features product from partner brands, curated to Deplar Farm activities.
The Gear Room
If the Guide Room is the Control Tower, the Gear Room is the fun meter. Individualized lockers are stocked with customized gear for any and all guest activities, including personalized water bottles, sunscreen, and packs.
The Lobby Lounge
Our concierge headquarters, where the lodge manager and/or experience manager have a work station and are always available for Deplar info and inquires.
Spa
The pool has built-in lounge areas throughout. In addition to the pool, the spa has a Jacuzzi, sauna and steam bath, yoga room, gym, lounge area, three massage rooms, two isopods and fitting rooms. A masseuse is continually on shift, but for larger groups or pre-ordered massages additional therapists are available. Various massage and spa treatments are available to combat jet lag, sports fatigue, or simply to pamper. The flexible spa space lends itself to various wellness retreats, with equally notable food and drinks to match the inspired setting. Yoga classes are available year-round. We can also organize stretching classes, particularly during ski season after a day happily spent overworking those hamstrings. Deplar Spa also offers pre-arranged personal and cross-fit training. The indoor-outdoor, geothermal infinity pool (set at a soothing 38/39 degrees Celsius) is where our guests spend most free time. Hang out at the outdoor pool bar, swim under the sunlit nights or spy the Northern Lights in this dramatic landscape.