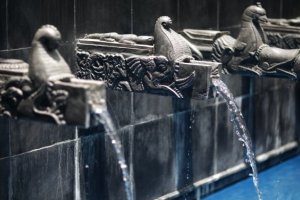 Dwarika's Hotel, Kathmandu
A tranquil retreat in bustling Kathmandu, the Dwarika's Hotel melds Old World tradition with divine luxury. Perfectly located near the center of the city, this is the ideal base to explore attractions while embracing traditional culture.
Be surrounded by intricate wood carvings, vibrant gardens and traditional Nepali décor. The family-owned Dwarika's Hotel was originally created to preserve old Newari architecture in the Kathmandu Valley. Now, it serves as a fine retreat for travelers.
An urban oasis near all the must-see sights
Tucked within the bustle of Kathmandu, this hotel puts you near important attractions like the Pashupathinath temple and the Buddhist stupa at Bodnath. But despite the central location, the ambience here is calm, soothing and inspiring.
Admire a collection of Nepalese artifacts dating back to the 13th century and unwind amid warm décor that reflects Nepal's rich traditions. The courtyard features an outdoor pool with stone fountains reminiscent of a 12th century Malla Dynasty bath. Embrace the sun on the patio or relax in the shade of towering trees.
Plush comfort & rich tradition
Each of the 87 rooms and suites have been individually designed to blend Nepali culture with contemporary touches. Organic, hand-woven linen and custom furniture add to the uniqueness of these accommodations.
Dine at one of three decadent restaurants and enjoy an elegant ambience while savoring Nepali, Japanese or other cuisine. Relax your body and mind at the Pancha Kosha Himalayan Spa, where holistic treatments foster a sense of wellbeing. Unwind with a book in the library or simply marvel at the exquisite architecture that surrounds you.
To find out more about this amazing property, please contact us for a free travel consultation.