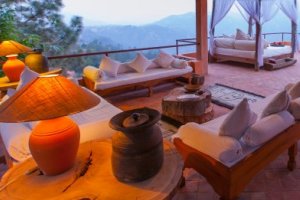 The Dwarika's Resort, Dhulikhel
Connect with the beauty of Nepal's Kathmandu Valley while enjoying spiritual-inspired luxury at this unique resort. Spa treatments, yoga classes and decadent cuisine combine to provide an experience that captures the essence of the Himalayans.
Decompress amid the quiet beauty of the Nepal's Kathmandu Valley at Dwarika's Resort Dhulikhel. Unwind in a hammock and gaze across a hillside dotted with rhododendron and cherry blossom trees and then indulge with a sumptuous spa treatment.
Simple, spacious and enticingly rustic, these accommodations offer a way to meditate and connect with nature while still enjoying fine luxury.
Simple elegance inside and out
Stay at one of 38 guest rooms tucked along 20 acres of gentle slopes. These uncluttered and comfortable accommodations feature their own private outdoor spaces, complete with hammocks or lounge chairs.
Admire stunning mountain views from a giant picture window and roam the manicured hotel grounds. Watch birds, butterflies and deer or settle near one of the resort's amazing sunset viewing points.
Explore the surrounding terrain on a mountain bike or hike through winding trails that afford awe-evoking views of the valley. Visit nearby Newari villages, connect with the residents and create memories you'll always treasure.
Opulent amenities for reflection & meditation
The cornerstone of this resort is the Pancha Kosha Himalayan Spa. Lose yourself during a body treatment that blends the use of rare herbs with ancient Buddhist medicine; achieve a new level of relaxation in the Meditation Maze or enter the Chakra Sound Therapy Chamber and discover pure harmony within yourself.
Spend some time in the Himalayan Salt Room to improve your respiratory system and strengthen immunity before taking a pottery class or learning yoga from a master. Plunge into the infinity pool and then cap your day with a decadent meal of sumptuous Himalayan-inspired cuisine.
To find out more about this amazing property, please contact us for a free travel consultation.