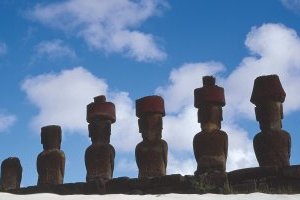 explora en Rapa Nui Easter Island
Located 3,700 kilometers (2,237 miles) from the American continent, surrounded by the world's most transparent waters, Rapa Nui is the cradle of an unusual and enigmatic culture which persists to this day. The language, music and many traditions remain alive amongst the island's inhabitants, while the enormous carved stone moai tells a tale of a more remote past.
All of the 30 rooms have excellent ocean views. The lodge has welcoming indoor spaces that integrate aspects of the local culture. The design is intended to have minimal impact on its surroundings. The lodge is built on a site that is inappropriate for agricultural use and has no archaeological remains. The flora surrounding the lodge has been maintained intact.
The lodge offers more than 15 different excursions, by foot, horseback riding or bicycles; ranging from easy to more challenging. The more extensive explorations include lavish open-air picnics.
All excursions are safe and operate in small groups of a maximum of 10 participants, accompanied by an expert bilingual guide.
Each afternoon, one of the guides will meet with you in the lodge's bar to tell you about the explorations planned for the following day and help you choose between many different and exciting options.
Choose from 2,3,4,5 or 6 night's all-inclusive packages featuring:
Transfers between the local airport and your Explora destination transfer schedules subject to change without prior notice. Inquire about transfer schedules at each Explora destination.
Accommodations.
Full board. 3 Meals per day. Bar.
Daily explorations with bilingual guides and equipment; boats, vehicles, and bicycles (max group size: 10 explorers per guide). Equipment varies at each destination.