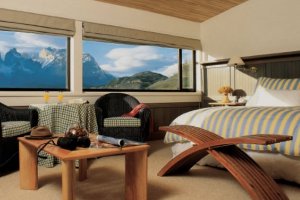 explora Patagonia
Price per person sharing double occupancy room starting at: $2,820
4 nights Package rates, per person sharing double opccupancy room:
Salto Chico Room (view of Salto Chico): $2820
Cordillera Paine Room (view of Macizo del Paine): $3220
Suite exploradores (view of Macizo del Paine): $4320
(*): Between October to April, the programs in Patagonia have fixed dates with stays of 4 or 8 nights, subject to calendar
(+): For Christmas and New Year's, the programs in Patagonia have fixed dates with stays of 6 nights, subject to calendar
(#): Programs valid between May to September
• On the three lodge-based journeys, a minimum stay is required: in Patagonia it is 4 nights.
• Extra nights are available upon request.
• All explora's rates include entrance fee to Torres del Paine National Park
• Arrival Pick up – Chilean border at Cerro Castillo at 12:00.
• Departures drop off – Argentina border in Cancha Carrera at 12:00.
Patagonia is the southernmost region of the American continent and one of the least populated areas in the world. Millions of years ago, it underwent major geological and glaciological transformations which created mountains, glaciers, lakes, and rivers. Today this region is home to an extensive variety of plants and animals, many of which are native to the area.
Explora Patagonia offers over 35 different excursions, ranging from 'easy' to 'challenging'. These excursions enable you to discover its various landscapes and wildlife and to get to know the diverse ecosystems and living creatures that have lived here for millions of years, as well as the unique way of life of its human inhabitants: the gauchos.
The explorations and Patagonia adventures are safe and are made up of groups with a maximum of 10 people, accompanied by an expert bilingual guide.
The longer explorations include open-air picnics. Sometimes we use minibusses or motorboats for sections of the route.
We celebrate each change of season and weather. Rain, wind, an unexpected snowstorm or a day of bright sunshine are all part of the experience. The key is to be well-equipped so you can enjoy the journey to the fullest.
Each afternoon, one of the guides will meet with you in the lodge bar to tell you about the explorations planned for the following day and help you to customize your day.
Your 4-night program includes:
Transfers between the local airport and your Explora destination. Transfer schedules subject to change without prior notice. Inquire about transfer schedules at each Explora destination.
Accommodations.
Full board. 3 Meals per day. Bar.
Daily explorations with bilingual guides and equipment; boats, horses, vehicles, and bicycles (max group size: 10 explorers per guide). Equipment varies at each destination and there is Patagonia travel information available to you.