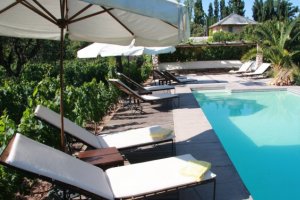 Finca Adalgisa; a Boutique Winery Lodge; Mendoza, Argentina
Finca Adalgisa is an early 20th-century manor house and vineyard estate in the heart of the premier wine-growing region of Argentina. It is a charming family home converted in 2001 by Gabriela Furlotti, a third-generation Argentine-Italian, into the first boutique hotel and winery in Mendoza.
Although secluded and private, it is conveniently located within 20 minutes drive of Mendoza's city center and within walking distance of a thriving little community with local shops and nice restaurants, called Chacras de Coria.
The Finca's guests are warmly welcomed as new friends and our home is your home. We have a relaxing and informal environment where things can be arranged spontaneously.
Facilities
Eleven guest rooms are located at our Finca. The vineyard and fruit trees occupy more than half of the total of approx. 5 acres (2 hectares).
Each room is different and well equipped. All rooms have a king- or queen-sized bed, a private bathroom, air-conditioning, a safe, a mini-bar, wifi, and a telephone.
Other distinctive characteristics of the rooms are a terrace, a living area, a fireplace and/or kitchenette.
Each room manages to be unique, unpretentious and comfortable.
A complete breakfast buffet with freshly-baked bread, fruits, fresh juices and marmalades and much more is included during your stay.
In the evening, you are invited to come along and enjoy a nice glass of wine and some tapas at our cozy wine tasting area, inside our little winery.
For information and reservations please contact us.