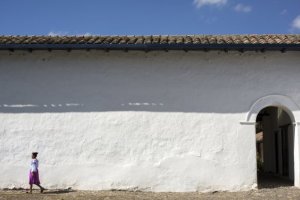 Hacienda Zuleta
Strating at: $314
2021 - Prices are per night, per person sharing a double-occupancy room:
Jr. Suite: $507
Hacienda Deluxe Room: $435
Hacienda Standard Room: $314
Included:
Accommodation
European-style breakfast, 3 -3-course lunch, afternoon snack, and 3-course dinner
Non-alcoholic beverages
Visits to:

Condor Rehabilitation Center and Flying Condor VIewpoint
Extensive gardens and pond
Chapel
Self-guided trails network
Visit the local community
14th-century Caranaqui archeological pyramid
1,700 hectares Hacienda grounds and farm operations such as Cheese Museum, Organic Vegetable Garden, Worm Farm, Milking Sheds & Trout farm
Welcome to the stunning 17th-century hotel and working-farm of former Ecuador President Galo Plaza Lasso and his family. Created with natural warmth, hospitality, and community ties, Hacienda Zuleta boasts beautiful antique rooms, delicious home-grown Andean cuisine, and a wealth of a-la-carte activities.
Cradled in an Andean valley at 9,600' above sea level and only two hours north of Quito, historic Hacienda Zuleta offers guests a raw and authentic experience steeped in four centuries Ecuadorian history and tradition. The working farm sprawls over 4,000 acres and has been owned and operated by the family of Mr. Galo Plaza Lasso, former president of Ecuador, for over 100 years. Guests are warmly welcomed in the historic home, which features antique gardens, family heirlooms, hand-embroidered linens, and cozy fireplaces in each of the 20 guest rooms. A condor and spectacled bear conservation project, pre-Incan burial mounds, indigenous handicraft cooperatives, and a working farm are all tied into Zuleta's sustainable community tourism initiatives, which can be explored by guests on foot, horseback, bike, and vehicle.
The House
All of the guestrooms are located in the main building, which dates back to 1,691. The hacienda has 21 beautifully decorated bedrooms, all with their own fireplace. Antique gardens along with cozy living and reading rooms offer a peaceful atmosphere.
All rooms feature:
A private bathroom
Access to gardens, patio, terraces, and/or Garden View
Fireplace with glass door
Bathrobes & Bathrooms Amenities
Hair Dryer
WiFi Internet Access
Laundry Service