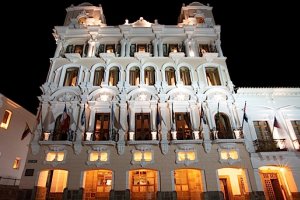 Hotel Plaza Grande, Quito
The Hotel Plaza Grande is located directly in the Plaza De La Indepencia, and The Presidential Palace. The Place in which it now resides belongs to prestigious and aristocratic families who later decided to build the first luxury hotel in the city. The legendary building of eclectic architecture which in its time broke the homogeneity of colonial houses has a unique location as it enjoys very close proximity to the iconic buildings of colonial Latin America. You will find a lot of history in the center and also find various pieces of art such as: The Chur of la Compania, The Cathedral, The Convent of San Francisco and Santo Domingo, El Museo De La Ciudad and much more.
Hotel Plaza Grande has 15 suites furnished with fine woods and following patterns of Spanish colonial times. These suites combine the taste of vintage times with minimal detail that modern hotels of 5 stars may require. Enjoy the images through the windows that will transport you to legendary times. The suites are carefully designed and decorated for your total wellbeing.
La Belle Époque Restaurant – Bar: A fusion gourmet cuisine to enjoy in an intimate surrounding with impeccable service, perfect for breakfast or lunch. It's the perfect place for dinner accompanied by live opera.
Café Plaza Grande: This restaurant gives you a pleasant taste of the Quito of yesteryear where you can taste a variety of exquisite Ecuadorian cuisine within the magical surroundings of the Plaza Grande.