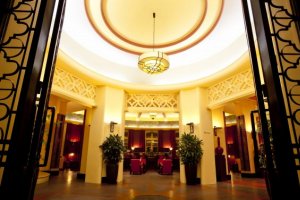 La Residence Hotel & Spa, Hue
The palatial grandeur of La Residence captivates from the moment you arrive. The white-washed exterior and curvaceous style meshes well with Art Deco touches throughout the building. Linger in the spa, plunge into the palm-fringed pool or just soak up the soothing ambiance.
Understated elegance throughout
Step into one of the 122 rooms or suites and take in a vibe that's simply stylish without being pretentious. Dark wood furnishings, milk-white walls and spectacular views create an experience that's the epitome of boutique.
Refurbished in 2005, when two new wings were added, the La Residence is a beacon of historic style. It was once the residence of the French envoy in Vietnam's colonial days.
A relaxing stroll into town
Walk along the tranquil Perfume River and you'll be downtown in mere moments. The iconic Citadel and Imperial City are also nearby.
Those who wish to unwind within the La Residence will discover a medley of luxurious amenities. Savor a moment at the spa, where guests are treated by warm and attentive staff, and then dive into an outdoor pool framed by immaculate gardens. Complete your day with dinner at Le Parfum and savor an enticing fusion of French and Asian cuisine.
To find out more about this property, please contact us for a free travel consultation.