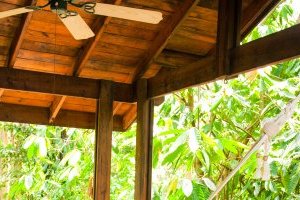 The Lodge at Pico Bonito
Starting at: $215
Night accommodation rates per single or double occupancy cabin:
Cabin rates are based on single and double occupancy and include breakfast for two, tour of The Lodge's Butterfly Farm and serpentarium, and access to the loop trail.
Standard Cabin
May 1 through December 20, 2014: $215
Decemebr 21, 2014 through January 3, 2015: $326
Superior Cabin
May 1 through December 20, 2014: $265
Decemebr 21, 2014 through January 3, 2015: $370
Children 11 years and under are free when sharing cabin.
* Prices do not include taxes (19%) and gratuities (10%). Cabins subject to maximum occupancy restrictions.
* Rates are quoted in USD and based on single/double occupancy per night.
* Holiday Season has minimum stay requirements.
Unwind at the only luxury eco-lodge in all of Honduras. This is where the tranquil beauty of the rainforest meets the rich comfort of a boutique hotel.
Ranked as one of the top 50 eco-lodges in the world by National Geographic, the Lodge at Pico Bonito is the epitome of rustic elegance. Tucked within a landscaped stretch of jungle, this is a uniquely beautiful place that keeps you close to nature without sacrificing comfort.
The feeling of splendid isolation
Settle into one of 22 upscale cabins surrounded by lush rainforest. From the rattan furniture and wooden floors to the enticing hammocks on the porch, these accommodations are surprisingly sumptuous. But the glorious feeling of being somewhere remote and special isn't ruined by cable TV or wireless Internet – you won't find either of those here.
Sink into a plush, four-poster bed and listen to the sounds of monkeys, cicadas and tropical birds as you unwind. Step onto your private veranda and take in the natural beauty while sipping a cup of local Honduran organic coffee.
Surrounded by a pristine rainforest
The Lodge at Pico Bonito provides one of the most spectacular places to explore the surrounding national park. Follow miles of meandering trails that take you past roaring rivers and stunning waterfalls. Watch for more than 420 species of birds and wildlife, including spider monkeys, tapirs, and jaguars.
Take a refreshing soak in the pool and then savor Mesoamerican cuisine at the Itzama restaurant, where a skilled chef crafts dishes with fresh seafood and locally grown herbs and vegetables.
To find out more about this amazing property, please contact us for a free travel consultation.