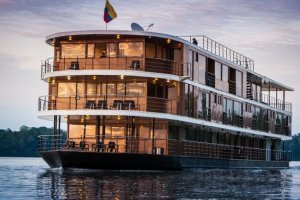 M/V Anakonda Amazon Cruise, Ecuador
Per person sharing double occupancy suite, starting at: $2,568
2020 Prices Per Person:
Standard Suite
4 Days / 3 Nights Cruise: $2,568
5 Days / 4 Nights Cruise: $3,209
8 Days / 7 nights Crsuie: $5,135
* Special prices for children under 12 years old arae avialbale upon request.
Prices include:
Transfers to/from vessel when arriving on recommended flights
On board accommodations
Programmed visits according to itinerary with a certified naturalist guide
Unlimited water, coffee and tea
All meals while on board
Not INcluded:
Airfare Quito – Coca – Quito
Transfer's to and from Quito's airport
Community entrance fees (USD 50 net per passenger in 4 and 5 day cruises, USD 60 net per passenger in the 8 day cruise). These rates are subject to change without previous notice
Alcoholic and non-alcoholic beverages
Tips and gratuities
Internet Wi-Fi
Personal Expenses
Any other service not mentioned herein
Choose from four, five and eight-day itineraries, each one of them with spectacular highlights that will surely make your trip a memorable experience. On the 8 days/7 nights itinerary, we visit the Yasuni National Park, the Cuyabeno Wildlife reserve, and the Limoncocha and Pañacocha biological corridors, giving our passengers the opportunity to connect with the Ecuadorian Amazon and experience its wonders.
The privileged 40 guests aboard the 148 foot-long M/V Anakonda may enjoy a wide variety of wine and fine dining, complete with the all-inclusive comfort of a five-star boutique hotel. Our 18 suites, each with an area over 172 square feet, feature sitting areas, large and comfortable beds, and wall-to-wall panoramic windows. The observation deck with two outdoor Jacuzzis and our al fresco lounge are ideal places to enjoy a cocktail, relax with a good book or simply appreciate the spectacular view.
Accommodations:
The M/V Anakonda is the only luxury cruise liner in the Ecuadorian Amazon Rainforest. Its 18 suites, each with an area of 172-258 square feet, are equipped with air conditioning and 24-hour electricity, each with a private bathroom with hot water and all necessary amenities, allowing our guests to enjoy their cruise with nothing to worry about. To accommodate families, Anakonda offers 2 sets of interconnected suites.
Social areas:
Passengers can socialize in the dining room, bar, observation deck with two outdoor Jacuzzis and in the al fresco lounge. There is also a small boutique where passengers can purchase souvenirs, or perhaps some vanity products that may have been left behind at home.
Crew:
Guests onboard are serviced by a professional 25-person crew, including a concierge, purser, paramedic, 4 skilled nature guides, and 4 local guides.
Dining:
Enjoy a wide variety of national and international fusion cuisine. The chef had created a balance mixture of traditional and well-known cuisine from all over the world and adapt it using fresh, local products. It's not unusual for our guests to enjoy unique fare such as Quinoa Risotto or the famous "Encocado de Pescado" an exquisite fish prepared in coconut sauce. Bon Appétit!
Seasons:
The M/V Anakonda operates year round. Every trip is unique, based on the changing seasons. During the high water season, when the water levels of rivers and inlets rise, launch boats are able to venture deeper into the flooded forest. During the low water season, the river recedes to form beautiful sandy river beaches