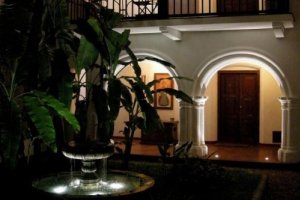 Old Harbour Hotel, Cochi, Kerala
At the heart of ancient Fort Cochin, Kerala, a place that exudes history and culture, is the 'Old Harbour Hotel'. A 300 year-old building that has for long been a heritage monument of this town, now reopened as a boutique hotel. Built in the Dutch style of architecture with hints of Portuguese influences, it was the first hotel of old Cochin. Later it remained a residential home to employees of English tea-broking firms until it was left unused for a period of time.
When the owners chanced upon this charming structure with its fine lines of architecture and immense grandeur, they believed its revival would allow one to re-live a glorious past. This led to the restoration of what is known as the Old Harbour House into a hotel of style and leisure, keeping the original façade and architectural elements intact, to bring alive the old hotel of previous sea- farers.
The architect paid close attention to every minute detail, making sure of the preservation of the building and its natural surroundings. However, to ensure that guests have a comfortable stay, all modern amenities have been adhered to.
The interior of the hotel is an eclectic blend of dated furniture and varied art that juxtapose to create a unique style. The thirteen spacious rooms, each of them named after the various old streets of Fort Cochin, are plush with high ceilings and either have a view into a courtyard with a fountain or over the ancient Chinese Fishing nets. The special garden cottages, which were added to offer a feel of Kerala, have open-to-the-sky showers, a veranda and a private pond. There is a large garden with a swimming pool as well as a stage for cultural performances, all of it set amidst plenty of natural green. For added comfort there is an Ayurvedic spa and a large open-air terrace. Paying added attention to comfort, care has been paid by providing organic soaps and lotions in the bathrooms, comfortable robes and slippers as well as plenty of bottled water.
Food has always been an important criterion at the restaurant. They ensure that only the freshest of foods are offered at all times. Homemade breads and plenty of freshly squeezed juices are a priority here. Only organically grown vegetables are used, while the meats are of the highest quality available. As the hotel rests close to the fishing nets, guests can enjoy a variety of seafood. For this, a special seafood menu with a barbecue is available every night in the garden. Their chef has also painstakingly conjured up an array of dishes to suit various taste palates.