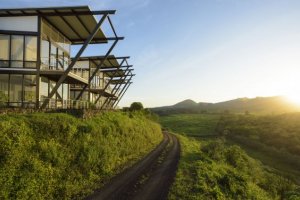 Pikaia Lodge - Galapagos Islands
The Pikaia Lodge concept is designed for the environmentally conscious, physically active eco-adventure traveler, who seeks close contact with the unique natural wonders of the Galapagos with the highest level of comfort and services that could be reasonably provided within the limitations of such a remote, restricted and eco-sensitive location. No lack of privacy, seasickness nor confined spaces of the typical yachts or cruises. As our Pikaia Lodge guest, you will enjoy active, quality guided land and marine day programs in small groups. At night you'll rest in spacious and quiet accommodations.
Due to its central location in the Archipelago, the Santa Cruz Island provided us with the perfect opportunity to develop our unique land based day tour concept, since the most interesting islands, secluded white sandy beaches and wildlife sites of the Galapagos National Park are nearby. All these can be reached within relatively short navigation times on board our large, comfortable, safe and stable oceangoing yacht Pikaia I.
In fact, you will discover some of the finest beaches of the Galapagos near the lodge. Just by taking a stroll, you can come face to face with a wild giant tortoise. Pikaia Lodge has its own private Tortoise Reserve on the property.
Pikaia Lodge is one of the most advanced green lodges built in the world. It operates with alternative energy resources and has an outstanding social responsibility program.
Accommodations Highlight: Pool Suite
This beautiful and spacious suite is nestled on top of the small plateau of our main crater and is conveniently close to the main building. This suite has panoramic floor to ceiling windows with access to a private plunge pool and a shaded terrace with breathtaking unobstructed views to the Galapagos National Park savanna and volcanic cones, to other islands and the Pacific Ocean.
It is 74 sq. m, including a 36 sq. m. ground floor terrace with a plunge pool and private garden, with a modern and cozy contemporary style decor and is naturally well lighted. It is furnished with a king size bed with cotton linens, duvet covers, plush hypoallergenic pillows, a desk with chair and a sofa-bed with two comfortable lounge chairs.
It was designed for having optimal natural cross ventilation with thermal insulation for natural cooling. It has remote controlled split air conditioners and ventilators for maximum guest comfort. Floors are made of Bamboo wood and are partially carpeted for bare foot comfort. Windows have black out curtains for late sleepers.
It has a generously sized bathroom of 22 square meters with a walk -in closet, two under counter vanity sinks and wall mirrors for each guest, a shower area with great ocean views for having nearly an "alfresco" shower experience with absolute intimacy and a bathtub. These bathrooms have a separate closed toilet room, are naturally well ventilated, full of natural light and decorated with Peruvian travertine marble. They come supplied with a complete line of biodegradable luxury bath amenities and plush cotton Bathrobes.