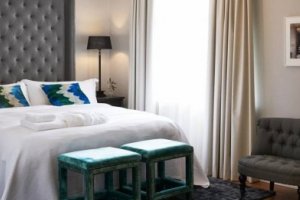 Sand Hotel
Sand Hotel is a luxury property located in the heart of downtown Reykjavik. The hotel's relaxed atmosphere and boutique-style design make it a desirable place to stay, with the bustling city life and rich culture just around the corner.
Throughout history, the hotel's surroundings have been in the center of culture and commercial in Reykjavik. Sandholt Bakery and Gudsteinn Eyjólfsson haberdashery, both of which have been in continuous business for over 100 years, are located on the hotel's ground floor.
In front of the hotel, set in the pavement, is an engraved stone slab in memoriam of the Nobel Prize writer Halldor Laxness born in one of the buildings in the backyard. In addition, aeveral art pieces by contemporary artists adorn the rooms and common areas of the hotel and carefully selected sculptures located in the backyard.