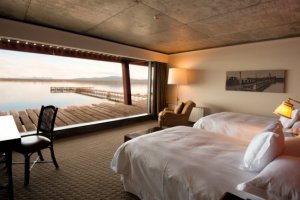 The Singular Patagonia
Located in the converted "Frigorifico Puerto Bories", a post-Victorian cold-storage plant built in 1915. This industrial complex was originally built to process and export frozen meat to Europe. The sheep came from all over Patagonia and the factory was in operation for 70 years. After a long period of neglect, the building was restored to its former industrial grandeur and was declared a National Monument in 1996. The owners, whose ancestors were among the pioneers who worked at the plant wanted to return the building to its former glory, but with a twist: transforming it into the finest and most unique luxury hotel in Patagonia! As you walk through the property, you'll find constant reminders of an industrial past. These are reflections of a different time when risk-takers came to Patagonia to start a new life in an untamed land. This is "The Singular's" celebration of heritage: bringing Patagonia's proud past back to life.
The Rooms
This hotel was recently named the TOP Hotel in Chile and one of the Best Hotels in South America in "Trip Advisor's Traveler's Choice Awards". You can appreciate the beauty of Patagonia from your own personal haven in your room as each of the 54 rooms and 3 suites feature floor to ceiling (19 ft.) picture windows which overlook the Fjord of Last Hope with the Andes Mountains off in the distance - a reminder that Mother Nature creates the best artwork. Every detail for your comfort has been considered, the amenities include a spacious bathroom with a separate bathtub and shower, minibar, complimentary Wi-Fi and satellite TV (although, it has been found that most guests prefer just one channel (the one they see out their window).
The most Singular Patagonian Restaurant
Although being in such an incomparable setting with views of the placid waters of Last Hope Sound and saw tooth ridges in the distance is enough to enhance any meal, it is so much more than that! The award-winning chef, Laurent Pasqualetto will dazzle you with his culinary wizardry using fresh local ingredients to create imaginative twists on regional specialties. Every dish is not just cooked, it is crafted - you will chew a little slower, wanting each bite to last just a little longer as the flavors dance on your palate. And should you wish to enjoy some wine, the sommelier can offer suggestions for the perfect Chilean vintage to complement your meal. This is an epic experience for the epicure in you!
For information and reservations please contact us.