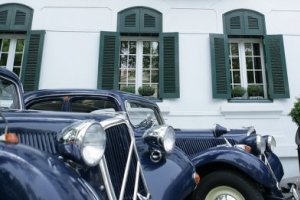 Sofitel Legend Metropole, Hanoi
Set in Hanoi's French Quarter, the elegant Sofitel Legend Metropole is frequented by celebrities, dignitaries and savvy world travelers who crave the stately luxury found within these historic walls. Discover why the Sofitel Legend Metropole remains one of the best-reviewed hotels in all of Southeast Asia.
From the antique furnishings to the manicured courtyard, the Sofitel Legend Metropole entices instantly with its unique take on Old World opulence. Tantalizing French cuisine, a stunning rooftop garden and a remarkably sumptuous spa provide a luxury experience found nowhere else in Hanoi.
Neo Classical luxury
Every detail here is refined. Walk across the polished timber floors and sink into a signature Sofitel MyBed. Admire the ornate touches all around you: velvet curtains, crystal chandeliers and elegant furniture. But the high-tech touches in each of the 364 rooms aren't neglected either, with flat-screen TVs and other modern perks.
Roam the corridors and explore the hotel's dramatic past. Tour the building's wartime bomb shelter and watch for artifacts scattered throughout the building, including room keys that date back to the hotel's opening in 1901. And when it's time to roam, you'll be mere steps from the Opera House and other attractions in the French Quarter.
Decadent dining; sumptuous spa
Indulge at a trio of restaurants that has earned rave reviews from the toughest critics. Le Beaulieu entices with a blend haute French cuisine and lavish wine. Savor authentic Vietnamese cuisine in the Spices Garden or unwind amid contemporary style while sampling the Italian fare at Angelina Restaurant.
Melt away tension at Spa du Metropole, where personalized beauty treatments are matched with a soothing ambiance. Afterwards, slip into one of the most spectacular swimming pools in Hanoi or lounge in the sanctuary-like courtyard.
To find out more about this property, please contact us for a free travel consultation.