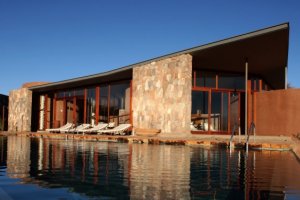 Tierra Atacama, San Pedro de Atacama, Chile
About the Lodge:
Tierra Atacama is an Adventure Spa, a place where guests combine active enjoyment of the desert with profound restfulness. We present the great beauty of the Altiplano via guided hikes, bikes, horse rides and in vans. Back at the hotel, rejuvenation comes from massages, pool time, lounging on outdoor beds, meditation, conversation, and lovely cocktails and meals.
Design & Amenities:
Tierra Atacama's architecture, interiors, and gardens were designed by some of Chile's leading creative talent. The objective was to be authentic, to use local materials, artisans and arts where possible, and to create a space that would excite, relax and inspire our guests. Hotel facilities include living room, bar, restaurant, guest computers with Internet, WiFi throughout the hotel, TV lounge, board games, outdoor dining, outdoor fire pits with camp seating and views of the Licancabur volcano, pool, Jacuzzi and full spa.
Included Excursions:
Discover the scenery, wildlife, flora, and archaeology of the Altiplano. Our guides meet daily with guests to help select the activity that best suits each individual's fitness, interest, and age. We offer a daily selection available for all interests and fitness levels, including hikes, walks, bicycle rides, horse rides, volcano climbs and four-wheeling. Relaxing at the hotel and spa is always a lovely alternative to outdoor adventures.
Location:
San Pedro de Atacama is an oasis in the Atacama Desert located in northern Chile. The hotel is a 15-20 minute walk from/to the center of the village of San Pedro. San Pedro is a 1-hour drive from Calama airport which is a 2-hour flight from Santiago, Chile. Altitude is 2400 meters (7920 ft). All seasons in San Pedro are pleasant for travel.
Rooms:
The hotel has 32 rooms styled with Atacameñan details. All rooms have views of the volcano Licancabur. 16 "Oriente" rooms (35 m2 / 377 sq. ft.) have terraces with volcano views and bathrooms with a shower. 14 "Poniente" rooms (37 m2 / 398 sq. ft.) have a bathroom with tub and shower and terraces with views of the gardens and Salt Mountains. Two family rooms sleep up to six with one master bedroom and two rooms with two twin beds and their own bathrooms (97 m2 / 1044 sq. ft.). All rooms have mountain views, private terraces, outdoor showers, hairdryer, central heating, ceiling fan, safe deposit box.
Gardens & Grounds:
The landscaping concept preserved local vegetation and trees and emphasizes agriculture with seasonal plantings such as corn, quinoa, figs, and other fruits, vegetables and herbs. These products are used in the hotel restaurant. Raised wooden walkways allow guests to circulate the grounds. There is an ancient and mysterious Algarrobo tree at the corner of the property with a meditation platform for guests to use.