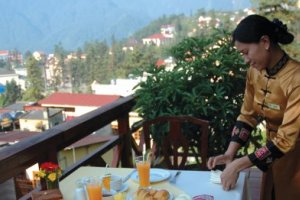 Victoria Sapa Resort & Spa
Blending mesmerizing views of the Sapa Valley with colonial-era charm, the Victoria Sapa Resort Spa is about both adventure and relaxation. This rare alpine lodge offers a Vietnam experience like no other.
Admire views over the mist-shrouded Sapa Valley as you enjoy the warm and enticing ambiance of this 77-room resort. Located in the Hoang Lien Mountains, this unique lodge makes the perfect base for explorers of all types.
Mountain chalet warmth
Step into the lobby and be greeted by a large stone hearth with a crackling fire. Authentic tribal textiles and tropical hardwood floors foster an ambiance that's welcoming and elegantly rustic.
Settle into a room that features a romantic four-poster bed and blankets adorned with hand-woven patterns of the local tribes. Open the French doors and step onto the terrace to enjoy sweeping mountain views.
Exquisite base for adventure
The Victoria Sapa Resort & Spa blends perfectly into the surrounding natural beauty. Meander just outside the property and explore rich cultures and spectacularly diverse ecology.
Visit local tribes on a tour arranged by the resort – you can even spend the night in a mobile hotel room set up high in the mountains – or trek between the villages scattered throughout the valley.
Refresh after a day of exploration by plunging into the immaculate indoor pool, which is drenched in sunlight that pours through towering windows in the afternoon. Complete your day by dining on authentic Vietnamese cuisine at the Ta Van restaurant and then relaxing by the fireplace at the Ta Fin bar.
To find out more about this property, please contact us for a free travel consultation.