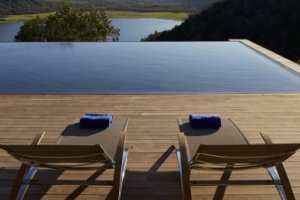 Vik Chile & Viña Vik Vineyard
Vik Chile and Vina Vik are ideally perched on a hilltop in the middle of a picturesque valley, the backdrop of the Andes Mountains in the far distance. Vik Chile boasts 360-degree views out across the surrounding vineyards and nature. It's floating, the sculptural roof of bronzed titanium, which was inspired by the mountains and the wind, greets you as you arrive.
The essence of VIK invites visitors to indulge in a true escape, through artistically immersive guestrooms, each with individual design and décor, world-class, superb dining experience and a range of diverse activities and experience.