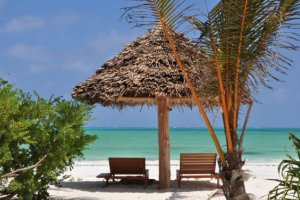 White Sand Villas, Zanzibar
A sumptuous retreat surrounded by the sugar-white Paje beach, these villas provide an authentic island experience. But for those who crave a little more action, there's a kitesurfing club located right at the resort.
Discover the rustic elegance of the Zanzibar White Sand Luxury Villas, where a delightfully secluded ambience makes it easy to unwind. Settle into the sand along the shore or find out why this region is known for having some of the best kitesurfing in the world.
An authentic beach escape
Built with natural materials that blend into the surrounding tropical landscape, these villas create the feeling of an isolated island oasis. Only 11 accommodations are available, which helps to preserve the calm, soothing ambience.
Unwind in your private swimming pool and gaze out at the shimmering ocean. Wander through lush gardens or relax on your terrace. Inside, you'll discover a luxurious day area with soaring ceilings and spacious bedrooms with a rain shower and a unique outdoor bathtub.
Relaxation & excitement
Paje beach is a mecca for kitesurfing. The steady winds and calm, shallow waters create the perfect conditions for this pulse-racing activity. That's why the Zanzibar White Sand Luxury Villas opened Zanzibar Kite Paradise, where lessons and equipment rentals are offered.
From fishing trips and spice tours to swimming with dolphins, there is an array of other activities available for those who prefer more relaxing pursuits. You can also take a trip to Stone Town, located about 40 kilometres (25 miles) away.
Afterwards, savor freshly caught fish and tropical cocktails at the on-site restaurant while admiring views of the impressive pool below. Complete your day at the rooftop lounge and marvel at some of Africa's most spectacular sunsets.
To find out more about this amazing property, please contact us for a free travel consultation.