7 Days / 6 Nights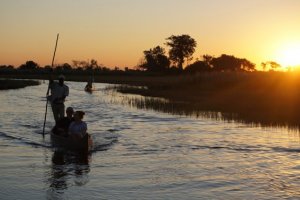 Best of Botswana - Featuring Desert & Delta Safaris
Embark on one of the most rewarding Safaris trips in Africa! Cover 3 Eco-Systems and stay at 3 breathtaking Safari Camps. Experience the arid Savute Region, the Okavango Delta, and the mighty Chobe River!
Daily arrivals in Botswana, January and March through December
This journey offers some spectacular game viewing opportunities that allow you to get up close and personal with some of nature's biggest personalities. A perfect combination of 3 different lodges that cover a diversity of ecological systems within Botswana.
The Chobe National Park is located in the Northern part of Botswana and lies along the Chobe River, which borders Botswana and Namibia. The Park is the second-largest in Botswana and is known for its superb game viewing all year round, as it has one of the largest populations of game on the African continent. Chobe is probably best known for its impressive Elephant herds. The Chobe River supports the largest concentration of elephants found anywhere in Africa and it is not uncommon to encounter herds in excess of a hundred animals.
Described as 'the jewel of the Kalahari', the Okavango Delta – a tranquil and isolated oasis set in the harsh and arid surroundings of Botswana's bush and desert – is widely regarded as one of Africa's best safari destinations, with its rich diversity of fauna and flora. The delta is one of the largest and most important inland wetlands of the world, with 2500 species of plants, 65 fish species, 20 large herbivores and their attendant predators, and more than 450 species of birds.
The Savuti Channel has a fascinating history of flooding and drying up independently of good rainy seasons and flood levels elsewhere – a mystery that has intrigued geologists and other researchers for many years. It is generally believed that tectonic activity deep below the Kalahari's sand bed is responsible. Others argue that its flow is primarily dependent upon the rainfall in the Angolan highlands which feeds the Okavango and Chobe River basins and the channel. The Savuti area offers great game viewing at certain times of the year. The annual Zebra migration is closely followed by many Lion prides. Good sightings of Cheetah and Leopard are possible and the endangered Wild Dog also occurs here. Savuti is famous for its large concentrations of Elephants that congregate around the waterholes, making game-viewing exceptional.
Starting at: $3,969
Rate per person sharing double occupancy room*
Green Season (January - March & December): $3,969
Shoulder Season (April - June & November): $4,962
Peak Season (July - October): $6,350
Single Accommodation : $1,864
A Single Surcharge is applicable to bookings during the Peak Season.
Single Surcharge is applicable for anyone reservation, comprising more than 2 singles during the Green or Shoulder Season.
* Rates are based on the program starting and ending in Maun. Prices are valid through December 31, 2022
Spend 6 night between of 3 safari camps on Fully Inclusive basis
Travel between the camps by chartered flights
All lodges are fully managed and operated by the gracious local communities
Embark on daily Game Drives
Walking Safari at Camp Okavango
Mokoro (dugout canoe) rides
Water Based Safaris
Enjoy Sundowner at breathtaking sites with unforgettable sunsets
Accommodations as follows:
Other inclusions:
Scheduled activities & laundry service.
All meals, refreshments, local spirits & wines (excluding premium brands).
National park fees, Airport Departure Tax and all government levies, taxes & 12% Value added Tax.
All Scheduled charter flights per package.
A contribution from every package booked goes towards one of the many Desert & Delta Safaris socially supported programs that address issues of the need to those in our community; supporting children, the disabled, employment, and health care. For more information please visit our website: desertdelta.com/CARES
No itinerary added to this journey.
Explore more of: Botswana